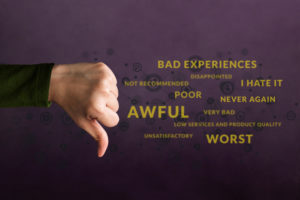 Anyone that runs a business knows that customer reviews can make you or break you. Great reviews bring in more business, while negative ones can drive it away. In today's online world, reviews are one of the first things that customers search about a company.
They're also important for good SEO and Google's My Business listings have put reviews front and center on any business search, so review management is of vital importance.
Properly managing your business reviews is about more than just requesting new ones, it's about knowing how to properly handle negative reviews. No matter what type of stellar computer and tech services you provide, you're bound to receive a bad review from time to time, deserved or not.
What's the right way to handle negative reviews? How important are they to your business? Read on to find out.
How Powerful are Customer Reviews?
While everyone can appreciate good reviews, you may wonder how important they actually are to your overall marketing and for generating new business. Here are a few eye-opening statistics.
95% of consumers read online reviews before deciding to make a purchase
There is a 270% greater chance of a purchase if a product has at least 5 reviews
The ratings range of 4.0 – 4.7 is the "sweet spot" for purchase likelihood
88% of buyers say that reviews influencetheir buying decisions
84 % of people trust online reviews as much as a personal recommendation (Forbes)
Have you looked at your reviews lately? It's always a good idea to do a Google search on your business name + the word "reviews" from time to time and see what information your potential customers are seeing.
Just ignoring your bad online reviews isn't really an option if you want to grow your business and build a reputation of trustworthiness and excellent customer service.
Tips for Handling Negative Online Reviews Like A Pro
It can be tempting to get defensive and start firing off a reply to a negative review before you think, especially if you feel a review is unfair. But that's not a good idea and most likely will only make matters worse.
An epic example of how NOT to respond to negative reviews happened when the TV show Kitchen Nightmareshighlighted Amy's Baking Company. The owners took to Facebook to respond to negative reviews and ended up getting into verbal fistfights online.. all publicly happening in front of potential customers.
So, if you shouldn't fire off a defensive response, what should you do? Here are the successful ways to turn bad reviews into a positive for your company image.
Reply to All Reviews – Even the Bad Ones 
It's a good rule of thumb to reply to all reviews, both good and bad. This shows that your company is paying attention and is responsive, which people will translate into your being responsive to their computer and IT issues as well.
A study by Harvard Business Review found that review ratings got better when responses increased. The hotels in their study also received about 12% more reviews when they started responding to all of them.
So, you DO want to respond to negative (and positive) reviews, and you'll get a review boost from doing it.
Listen and Don't Respond Defensively
Remember, what you're responding in an online review is seen by everyone, so you want to show yourself and your company in the best light. Even if you feel you are totally in the right on a particular issue, belittling the reviewer isn't going to look good to any potential customers who may be put off reading how you treat someone.
Take the time to really listen to what the reviewer is saying and try to see things from their perspective. It's easy to instantly assign a negative motive to a bad online review, but what did they actually experience? Were they having a bad day and your office was super busy that day, so they didn't get the quality care you normally strive for?
If you look at a negative review as constructive criticism to learn from, it can help diffuse how you're feeling about the situation and help guide your response to a helpful, rather than defensive one.
Think about what you can learn from a negative review that can make your business better. Are you seeing a pattern? Is there something in your process that can make things better for everyone?
For example, if a customer is complaining about the time it took your business to repair their laptop, look at the chain of what caused that to happen:
What's their main complaint?You quoted a 4-day turn around, but it took 10 days in their case.
Why was it late?Their laptop needed a part that you didn't have in stock and you forgot to order it until they called to ask about their computer 6 days later.
How can this be alleviated in the future?Automate your ordering process so parts are ordered automatically as soon as a customer contracts for the repair.
How should you respond to the client?Apologize for the mistake and own up to the fact that the repair took longer than you originally quoted. Then perhaps offer them a discount if they give you another chance in the future.
Apologize for their Experience
Nine times out of ten what a customer giving a bad review wants to hear is, "I'm sorry." They typically just want to be heard and their experience acknowledged. In other words, they want to know you care.
Whether you did anything wrong or not, you can still apologize for their experience and that it wasn't what they had hoped for. If you do find that you dropped the ball in their case, it's good business to apologize, thank them for pointing out the issue, and mention that you're going to address this.
Showing that you care goes a long way into turning an unhappy customer into one that feels heard and may be more than willing to give you another chance for their business.
Keep Your Reply Short and to the Point
Remember, your words are being read by anyone visiting that review page, so it's best to keep your reply short and to the point rather than rambling on. Using three to four sentences for the length of your reply is a good rule of thumb.
You can still acknowledge their problem, show that you care, and give them a way to contact you offline while also ensuring your reply isn't too lengthy.
Move the Conversation Offline
And that brings us to our last tip, for a number of reasons, it's best to move the resolution of their issue offline. In your reply you should include contact information like your business phone number and email (even if you know they already have it). This helps keep sensitive details, like the price they paid or account numbers, from being given in a public forum. It also lets those looking through the reviews know that you're easy to contact and care about getting issues resolved.
Suggest in your reply that the reviewer contact you offline to resolve their issue and when they do, keep that non-defensive posture and really listen to what they have to say so you can try to resolve it as best you can.
Handling negative reviews with tact and professionalism makes all the difference in how your business is perceived by those 95% of people researching you online that may become your customers. It's a win-win if you can turn an unhappy customer into a happy one and gain more along the way by handling bad reviews the right way.
Ramey Bell is the founder of TechReputation.com
Visit https://www.techreputation.com/acrbo for 20% off for ACRBO members

Latest posts by Ramey Bell
(see all)