The Association of Computer Repair Business Owners (ACRBO) is a trade association created in 2009. Originally the Association was the National Association of Computer Repair Business Owners. After a year we realized that we needed to extend membership throughout the world due to the overwhelming request we received from business owners that lived outside the United States.
The Association was formed by Daniel Hand owner of Computer Medics of Northern Virginia LLC after realizing that there were no professional Associations for the smaller computer business owner to become part of. With the increase in membership the Association created a "Leadership" team to help maintain the site and promote the industry.
The Association of Computer Repair Business Owners is dedicated to promoting industry education and improving consumer relations with professionalism and integrity. The Association members have skill sets ranging from computer repair, network installations, network security data recovery, web design and more.
The Association of Computer Repair Business Owners is an Association of professionals, who are dedicated, trained and complies with a Code of Conduct.
The Association of Computer Repair Business Owners
primary mission is:
To advance professionalism and ethics throughout the Computer Repair Business;
To enable customers to identify trust worthy businesses they can transact with safely;
To provide verification of members' status of good standing within the Association and a record of past feedback;
To give members an opportunity to network with fellow members in a safe environment;
To offer its members practical information, discounts and tools to assist them in developing and conducting their business;
To show that they are part of an association of professionals with the highest standards;
To foster public understanding of the Computer Repair Business industry;
The following chart represents the current makeup of the Association members
in terms of experience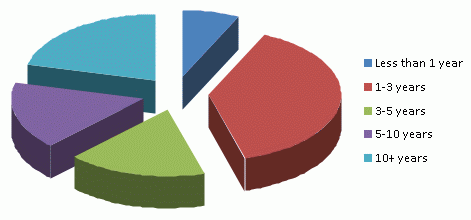 The goal of the Association is to increase public awareness of computer businesses in their community as well as educating them as to trends in the industry. There is a "Company Lookup" that consumers can locate and contact any member of the Association.
The Association started a scholarship fund in 2010 and awarded two scholarships that year to students in Ohio and South Carolina.
Membership is free to all members even though there is a "Premium Membership", and those members receive Association Certificates and Membership Cards, as well as advance notification of all Preferred Vendors that become part of the Association.
All Association members receive a monthly newsletter that they can customize and distribute to their own customer list. The Association portal contains a blog, forums, chat, marketing material, a Preferred Vendor section as well as other ways for members to network among themselves.