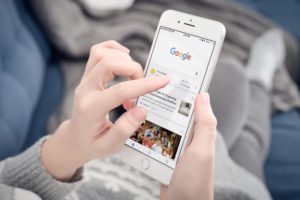 Have you ever been out for an evening with friends and searched something like, "Italian restaurants open tonight near me"? If so, you're not alone.
According to Chatmeter, Google noted a 900% increasein "near me tonight/today" searches over the last two years. Much of it is being driven by voice activated searches through mobile devices and voice assistants, like Siri, Alexa or Google Home.
Local "near me" searches are a huge opportunity for computer repair and service companies to be found by more potential customers, and not just any people… but those looking to buy right now.
76% of peoplethat perform a local search on their smartphone visit or call that business within 24 hours.
So, how can you ensure your IT business comes up when someone is doing a local search from their phone or voice assistant? The key is to optimize your business for those local "near me" searches.
Read on for seven things you can do to ensure local searchers can find you when they need you.
Why are Local "Near Me" Searches Important?
If you think that by simply putting your address on your website you'll automatically come up for local searches, you could be missing a lot of potential customers. As with any type of search results, if you're not on the first page or in the first few listings (especially on a mobile screen), you'll be missing out on most of the traffic.
Websites on the first page of a search engine listing get 95%of the traffic. So, optimization is vital to gaining a good search engine ranking position. And optimizing for those all-important "near me" searches takes a few special tricks focused on local visitors, which is the lifeblood of a computer services business.
Why are the local searches so important? People are increasingly using them for convenience and to find what they want, when they want it.
Here are a few eye-opening stats from Chatmeter:
The search combination "near me" coupled with "can I buy" or "to buy" increased 500% over the last two years
"Near me now" searches have increased over 150%
Mobile searches for "open" + "now" + "near me" have increased 200%
Get Found in Local "Near Me" Searches with These Tips
By employing these optimization tips you can have a much better chance of ensuring your business is found when someone is searching for IT services or computer repair in your local area.
Properly Optimize Your Google My Business Listing
Google My Business listings are a must if you want to be found by people searching locally for IT and computer services. Many mobile searchers rely on that quick snippet of information Google provides on the company's hours and map location link to find a local business fast.
If you haven't yet grabbed a Google My Business Listing, you'll want to do that so you can fully optimize it with your company's information. It's important to Google for things like your hours, address, phone number, and email to match your website and other information that's out there about you online (like on your social media pages).
If key contact information matches, that puts you as a more trustworthy and relevant listing in Google's eyes and you have a better chance at a top search position.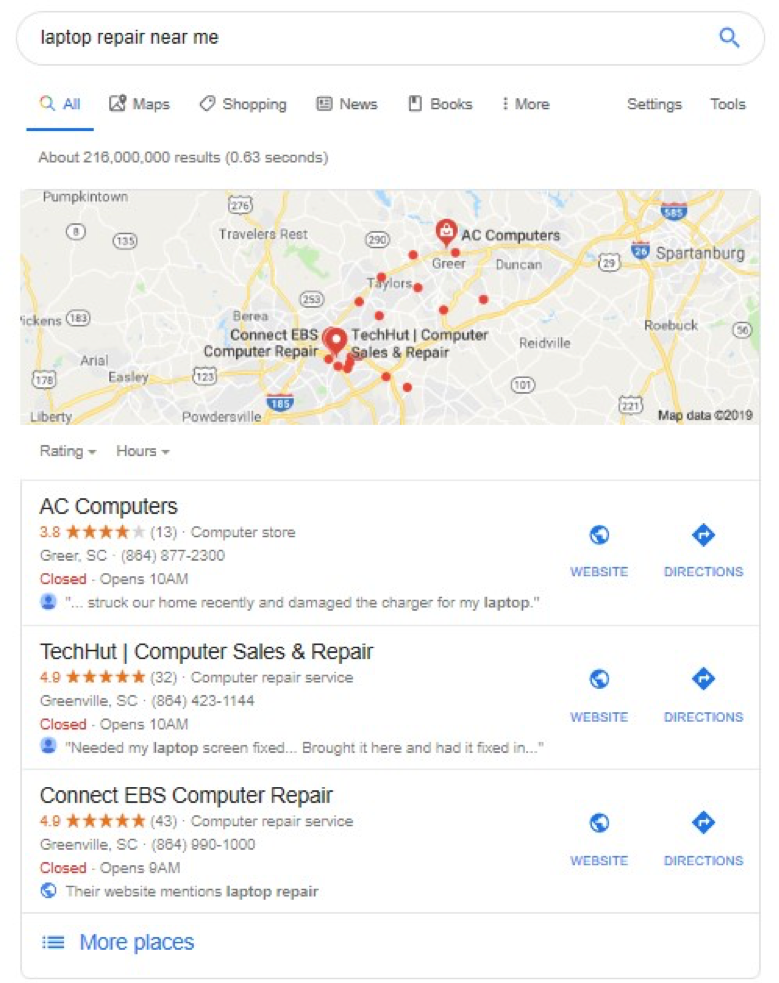 It's important to list your hours, address, and phone accurately in Google My Business.
A good way to start is search for "computer repair near me" and see which listings already come up to get some ideas from those. Knowing when your competition opens can also give you an advantage. For example, in the listing above, the shop that opens at 9AM rather than 10AM will have an advantage when it comes to morning searchers needing help.
Some key things to do with your listing:
Make sure your hours are accurate, people rely on those to know when to call or visit
Double check all contact information for accuracy
Fill in any missing information, the more details the better
Add photos to your listing to help you stand out
Use their posts feature to promote your blog posts, videos, etc… on your Google My Business Listing, just like you would on social media
Use Local SEO on Your Website
Adding local keywords into your website text can help your site be recognized for computer repair and IT services within a particular town. Rather than just listing a string of towns in your service area on a page, create service pages optimized for each city or area, and ensure the content isn't an exact duplicate across pages.
For example, if you service both Denver and Evergreen, Colorado, make SEO optimized pages for each one, using as much local language as you can, such as: "Fast computer repair in the Mile-High city, our IT service technicians can be onsite at your Denver business same day."
Because Google also looks at the page URL when ranking websites for keyword relevancy, use something like "mywebsite.com/denver-computer-repair" as a URL to further promote relevancy.
Promote Google Reviews
Right at the top of your Google My Business page search listing is a star review, and review summaries will show beneath your listing. More reviews mean more local searchers are encouraged to hire your services.
95% of buyersread online reviews before making a purchase.
The first thing you'll want to do is create a link for people to write a review on Google for your business. Then share that link in post purchase emails and on your website to encourage more reviews and star ratings on your listing.
Use Schema Markup
One of the newer optimization tactics that's just come into widespread use in the past few years is schema markup on website pages and blogs. If you've ever seen a Google search result that looked like it had a little extra information, like a star rating or author photo beneath the title, that's the result of the website owner using schema markup.
Schema markup helps search engines gather more details on your business, such as holiday hours, that are then displayed in search results. This type of markup can be complicated to learn from scratch, so for a shortcut search out a schema markup plugin or template to use.
Backlink with Other Local Businesses
Backlinks are always great for SEO and especially so if they use local anchor text, such as linking the words "Denver computer repair services" to your site, rather than just "click here."
By partnering with your fellow local businesses in your area, you could all support each other's sites and help each other's local search rankings by back linking to each other.
Ensure Your Site is Mobile Friendly 
Mobile devices have gone from, "okay, maybe I should optimize for them" to "I absolutely must optimize for them." About 57% of allU.S. search traffic now comes from mobile devices and 1 in 3mobile searches are for a local business or service.
Additionally, Google recognizes the importance for websites to load quickly and be easy to navigate on a mobile device. So much so that if your site isn't responsive and mobile-friendly, you'll get penalized in the search engine rankings. Use Google's PageSpeed Insightsto see how your pages score on mobile.
Optimize for Voice Assistant "Near Me" Searches
A newer trick to optimizing for those Google Home or Amazon Echo voice activated "near me" searches is to sprinkle search terms and answers for them into your blogs or website pages.
For example, some of the terms people might use to find a local Denver IT shop might be:
"Where is the nearest computer repair shop?"
"List virus removal services near me"
"Is there a laptop repair shop near me open tonight?"
"What IT shop near me is Apple certified?"
One you have a listing of potential voice assistant questions, work them into your site naturally, such as adding to a blog or service page about virus removal something like:
"Many people in Denver are searching for a list of virus removal services near them, and ABC Computers is pleased to be one of the best in the Mile-high City… "
Get Your Local SEO Flowing
Optimizing for local "near me" searches is the virtual equivalent of putting a sign on every nearby street corner with an arrow pointing to your shop. Putting a little effort into ensuring your business can be found for those growing mobile and voice assistant local searches can bring significant returns in leads and new customers.
Ramey Bell is the founder of TechReputation.com
Visit https://www.techreputation.com/acrbo for 20% off for ACRBO members.

Latest posts by Ramey Bell
(see all)