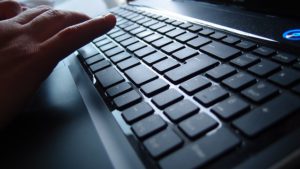 As a computer repair business owner, remote support is a crucial part of your business.  It's not just phone support, but also remote control of a client's computer.  Both on Mac or PC, you have dozens of choices for support, including those developed by Apple or Microsoft.  Picking the right one for your business is a serious commitment.
Keeping It Legal, Ethical and Secure
Some computer repair business owners use remote control software in violation of the EULA (end-user license agreement).  Programs designed for personal use shouldn't be used in a business. Your customers see those warnings as well and they won't trust you as much. Or worse, they'll ask you to violate a license agreement since you've established a pattern with a client.
The solution you pick needs to communicate to your clients you're a professional rather than a software pirate.  The last thing you want to tell a client is that you can't help them because you're locked out of your solution.
At A Price You Can Afford
One reason you might pick a free solution is starting out, you can't afford much.  You need to get the clients, but you can't get the clients without the software.  Spending hundreds of a dollars on a solution won't serve your business well. The solution you pick, especially if you're jumping into professional remote support, has to be affordable. Look for solutions that charge you by the month, rather than a large upfront cost. Monthly expenses can be predicted and budgeted for.
With Your Name On It
When you install a generic icon and solution on your client systems, you become an interchangeable commodity. That's especially important with remote solutions. You don't always see your client so it's harder to establish loyalty.
An ideal solution lets you custom brand the product.  The solution is unique to you and your client.  Again, that shows you're a professional.  It's also advertising for your company.  Your remote solution serves as a reminder to who the support company is.
Can't Easily Be Used by Hackers
The number one concern with any remote control solution is hijacking. What if a scammer calls your client and used your tool gain control?  Even worse, what if they pretended to be you in order to gain control? That fear should keep you up at night.
With the free solutions that Microsoft includes and Apple used to include, the scammers can gain control of a system too easily.  Leaving that available to customers puts you and them at risk.  A professional support solution should be used only by you and your company.
But Easily Used By Customers
The solution you pick has to be easy for a customer to install and configure. Many of these programs are designed for remote workers rather than remote support. The more options and questions at install, the harder the software is to use.  Eventually, a client will just ask you to come on over rather than deal with a difficult to use program.  If they knew how to install software and answer questions, they probably wouldn't need you.
Focused On Just One Thing
Some products include remote support as part of a larger solution, such as an RMM. The problem with an RMM based remote solution is you're tied to that product.  The client needs to subscribe to your managed services program.  If your RMM provider gets bought out and increases your rates, you're stuck if you rely on them for remote management and remote support.
Selecting a remote support solution that's focused just on remote support can be a better business decision.  It keeps your business flexible for both break-fix and managed service work.  It lets you switch RMM providers without risking your remote connection.
Quality Technical Support
Since clients rely on you for technical support, your provider has to provide the same or better support as you do.  Before you pick a solution, contact the support department.  Obviously, if you're using a free solution (or worse a solution you aren't licensed for), that isn't an option.  Most companies will give you free trials of the product. During that time test the quality of the support.  If they treat you like an end-user rather than a support professional, you know the option isn't right for you.
Understands Small Business
Some remote control solutions are designed for large corporations.  It may seem attractive when the company says their product is used in Fortune 100 or even Fortune 10 companies.  When you think about it though, are they geared towards small business?  Who do you think gets better support, a company that has millions of users or a company that has a few hundred or even a few dozen?  Your provider should be focused on your business rather than large corporate clients.  Ask them who their biggest customers are.  If your remote support provider's client base doesn't match your business profile, that provider probably isn't a fit for you.
One Option:  Instant Housecall
As a member of ACRBO, you automatically get a 15 day free trial of the product. Whether you're break-fix or a managed service provider, Instant Housecall will fit into your business processes.  If you're with another provider, you might get a better value with Instant Housecall. If you haven't embraced remote support, then Instant Housecall is a great place to start.  You'll get the right mixture of features and support at a price you can afford. https://instanthousecall.com

Instant Housecall is an on-demand remote support software solution that lets IT Pros and Managed Service Providers view and control remote PCs and Macs in seconds, and automatically fix PCs.

Latest posts by Corey Fruitman (see all)