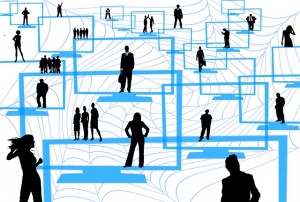 Often I talk to my business owner friends and ask them to tell me their best source of new prospects, nearly all of them offer the same answer: referrals from satisfied customers. I am really not shocked. Hundreds of questionnaires carried out by companies like VistaPrint, Nielsen along with others reveal as many as 70 % or more of customers say word-of-mouth recommendation is the main reason for their buying behaviors.
When I opened my first store, word-of-mouth took months to do the job simply because our customers simply had the option of writing mail, calling people on the telephone, or speaking with their friends, face to face. At best my clients were only getting in touch with a few people a day so the message couldn't spread very quickly at all. Even worse than that, I had almost nothing in place to motivate or prompt my customers to tell their friends and colleagues to use us.
The Internet altered the strength of referral marketing in the late 90's and now social media is transforming it much more in the 21st century. Social media sites like Facebook, Twitter, Instagram, and more are delivering buyers a substantial platform that genuinely gets to thousands and perhaps millions. This is an exceptional possibility for you to boost your referral marketing.
Write Methods to Grab Customers at Their Happiest
Like me back in the 90's, most entreprenuers don't have a documented referral program in place. This is a serious oversight but one that is totally simple to deal with.
Mobile devices, Social media marketing, and the Internet have made getting your message out by sharing customer testimonials as simple as writing a few words and hitting POST. In our business we developed a written process for getting testimonials from our customers the very minute they are most happy with their transaction.
We just simply have a portable video camera and my employees ask the customer if they would be ok with recording a short referral video for our company. Then we just transfer it to YouTube.
YouTube has all we required to do simple video editing and it makes it insanely simple for us to distribute with the help of different social media sites. The biggest benefit was finding our videos naturally ranked for all kinds of terrific keywords on Google without needing any effort on our part.
Use Your Web Page To Obtain Referrals
Written testimonials continue to offer a massive influence in consumers purchasing decisions. A simple technique to receive more testimonials is to build a testimonial capture page with a service like Wufoo.com. Make certain to incorporate a field giving you authorization to use the testimonial in your advertising.
The moment you set up a testimonial capture page, you will have in your toolbox an uncomplicated method for customers to efficiently talk about their experience with your company and your products. You should use these testimonials in each of your different marketing channels to boost the power of your marketing messages.
An example of how you can make use of your testimonial capture page is to place it on a tablet computer at your POS or carry a tablet out with you on-site. Now just ask the customer to type in some kind words, snap a fast picture, and you have made supplying testimonials that a lot easier for your customers.
E-mail Signature Lines to Get Feedback
Many business owners include our Name, Address, Phone Number, and Website URL in our e-mail signatures, but have you ever tried including your social networking site URLs? Adding social media site URLs can improve the amount of followers on your social media fanpages.
One more thing you can do with your email signature. You can add a link to your YouTube page with all those videos you recorded and you can add a link to your testimonial capture page. See how well it all ties together?
With these recommendations in mind, you ought to have more outstanding referrals in no time at all! Use the comments to share what ideas you have tried to get better word-of-mouth marketing.
Herman Pool is the current President of The Association of Computer Repair Business Owners.
Latest posts by Herman Pool (see all)