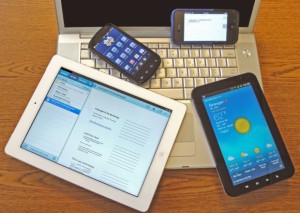 A client named Michael learned about the ability to sync Outlook with an iPhone wirelessly using iTunes' Wi-Fi sync feature. He was also excited about the prospect of getting all his Outlook appointments, contacts, tasks and notes on his iPhone without re-entering them. Because he worked in a field that took him out of the office often, he needed to update his phone just about every day to ensure he had the most updated information with him.
Unfortunately, the iPhone's Wi-Fi sync feature refused to work. Not one to give up easily, Michael searched online for possible resolutions. His search took him to Apple's support pages where he found an article on how to fix the problem. None of the suggestions worked. So Michael researched other options.
Considering one in seven people use Microsoft Office, your clients most likely use Microsoft Outlook. Experience has shown that most people enter calendar and contact information into their computers and again on their devices. Yet there are three simple solutions for this that would save a lot of time. And it will ensure your clients always have the most updated calendar and contacts with them on the go.
Here are three ways to sync Outlook with phones and tablets:
Exchange server.
Cloud: Outlook.com / Office365, Google and iCloud.
Third-party software.
Invest in an Exchange Server
You wouldn't think it, but Outlook synchronization is a complicated process behind the scenes. That's why users run into many problems when they try to sync like Michael did.
Clients must have all of their data with them. Nothing can be cut-off or missing. Imagine what would happen if they're away from their office only to find their Android phone is missing an appointment. Buying and installing Microsoft Exchange Server would allow a small business to sync all its data.
However, many small businesses, freelancers, consultants and individuals can't justify paying for an expensive Exchange Server and its recurring fees. Not to worry, there are two more options.
Use the Cloud
Google Cloud, iCloud and Office365 allow people to access their important information from any connected device or computer. Everything lives in one place online that they can access from their devices.
The downside of the cloud is that there have been reports of iPhones and iPads not being able to sync with Outlook for PC and iCloud as well as Outlook.com in Office365. Users who sync contacts with the cloud run into problems with duplicates on their phones or see information is missing, something that's not acceptable.
Some clients — especially those in professions with strict compliance and regulatory guidelines — may not want to store their confidential client information in the cloud. So they need another option.
Research third-party software
Many third-party software options are available that can sync Outlook data with phones. Some are free like iTunes and Samsung Kies. ITunes only works with iPhone, iPad and other iOS devices.
More than a third of Americans are digital omnivores according to Deloitte's "Digital Democracy Survey." The survey has found that 37 percent of Americans own three devices: a laptop, smartphone and tablet. These devices don't always run the same operating system. If users own an Android phone and an iPad, then they won't be able to sync the Android with iTunes.
Samsung Kies is only available for Samsung phones. It's notorious for having problems. Because these two apps do more than sync Outlook data, they encounter more than their share of problems. As stated before, the stuff that occurs behind the scenes in Outlook sync is complex.
The other option is third-party sync software, most of which aren't free. Still, most of them provide a trial to help users determine whether the software meets their needs. The best sync solution depends on your clients' needs and requirements.
Here are the features to look for in Outlook sync software:
Data to sync: Outlook Contacts, Calendar, Tasks, Notes or all of them. (Email works out of the box.)
Sync method: Wi-Fi, Internet, USB cable or cloud.
Device operating system: Android, BlackBerry, Windows Phone or iOS.
Computer operating system: Mac or Windows.
Sync with device own apps: Can the software sync Outlook with device's own calendar and contacts app?
Trial: Is a trial available? How long? Any limitations?
Customer service: What's their availability? How much service do they provide?
Guarantee: Does the software come with a guarantee?
License: How many devices and computers does it cover?
When your client has a short list of sync software options, search the Internet for impartial reviews. Then they can download the trial to see how they like it. Michael tested several third-party software options and found one that worked for him.
Try AkrutoSync free for seven days.

George Tatar is the co-founder and CEO of Akruto, a productivity and Outlook sync software company that aims to simplify customers' lives so they can focus on the things that matter. AkrutoSync automatically, privately and completely syncs Outlook Calendar, Contacts, Tasks and Notes with unlimited Android, Windows Phone and iOS devices.

Latest posts by George Tatar (see all)