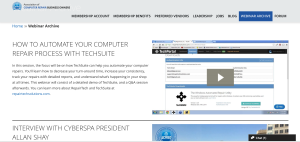 No matter what the reason for missing the latest webinar on ACRBO, don't fret; preferred and expert members now have access to the webinar archive to watch recent and past webinar content anytime.
Most popular reasons for missing the webinar:
Got called out to the field – "gotta make the dough"
Never received the email invite – "Kindly add acrbo.com to your spam filter white list :-)"
My dog ate my smartphone – "well that's gonna hurt later"
What webinars – "dude, check your email, social media, fax, pager, something!"
So here's the deal
If you are free member, you can always register and participate in the webinars, but you must attend live. One of the major benefits of the $50 or $100 per year memberships (yes I said "per year") is recorded webinar content. This gives you the ability to watch the archive of webinars at your convenience.
Typically these recording will be posted within 24 to 48 hours of the live event depending on required formatting and editing.
Upcoming webinar
The next webinar is already scheduled and covers one of the most discussed threads on social media we have seen this year, which is our preferred vendor CyberSpa and their FreshStart service. If you are interested in learning more you can register for the upcoming webinar.
ACRBO and CyberSpa Webinar: How to Increase your Revenue with FreshStart on Feb 12, 2015 1:00 PM CST at: https://attendee.gotowebinar.com/register/4979104685697393922
If you have not yet upgraded additional benefits are:
Professional and Expert members receive:
Negotiated discounts from industry vendors
Member webinar content
ACRBO membership certificate
Recorded webinar archive access
Expert Members additionally receive
E-mail marketing tool
Exclusive entrepreneur business trainings
Check out all of the benefits and detailed descriptions at http://www.acrbo.com/membership-benefits
Access the webinar archive
If you are currently a preferred or expert member you can access the webinar archive at http://www.acrbo.com/webinar-archive

With more than 20years experience in the technology field and having been a part of a number of successful startups, Frank provides a unique take on the industry.

Latest posts by Frank Gurnee (see all)